Yesterday's technology is no match for today's challenges
How well your front line performs depends in great part on the technology used. If it's outdated, it's not made to outsmart errors, delays and complexity. Give workers the tools to get the job done. Go from lagging legacies to leading-edge solutions with GO Zebra. Swap setbacks for savings on smarter, harder-working technology:
Exchange complicated workflows for one-step simplicity
Work nonstop with technology built tough
Remotely manage with set-it-and-forget-it ease
Preempt problems before they become disruptions
Here are some examples of *qualifying Zebra products:
Mobile Computers/Tablets
Barcode Scanners
Mobile Printers and Card Printers
*Please refer to the GO ZEBRA Trade-in Program brochure for more details
GO ZEBRA Trade-In Program Brochure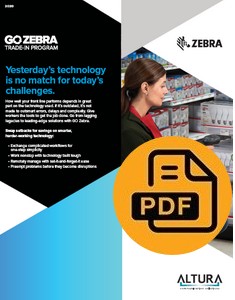 Learn more now about the GO ZEBRA Trade-In Program!