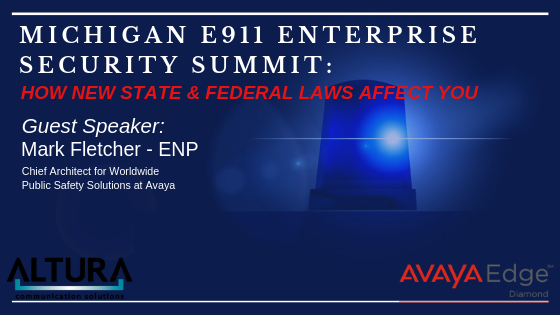 Michigan E911 Enterprise Security Summit Planned May 14th in Southfield, MI
SOUTHFIELD, MI, April 10, 2019 /– Effective January 1, 2020 all business and government locations in Michigan will be required to implement "Enhanced 911" service in their Multi Line Telephone Systems (MLTS). In addition, Kari's Law, a new federal mandate will take effect on February 16, 2020.
According to Mark Fletcher – ENP, Avaya's Chief Architect for Worldwide Public Safety Solutions: "Emergency Services capabilities in the Enterprise have drastically changed. What was not possible before, is now easily accomplished. As with all evolving technologies, more can be done for less, and that is exactly why the Avaya solution called SENTRY™ provides the efficiency of NG911 today."
Fletcher continued, "Employee safety is one of our major concerns for users of our communications solutions. Getting the right people, to the right place, with the right information is at the core of that mission. This is why SENTRY™ was designed to work not only with Avaya systems, but any system capable of making a call."
Altura Communication Solutions is proud to present Mark Fletcher as their guest speaker at The Michigan E911 Enterprise Security Summit on Tuesday, May 14th from 8:30am-10:30am at Noah's Event Venue, 26100 Northwestern Highway, Southfield, MI. Admission is free, space is limited and guests must register in advance. Click here for more information.
These critical public safety changes are required, and can be done efficiently and affordably. The key is to understand the technologies and solutions, and engineer them correctly. Join us to better understand these sweeping laws aimed at improving public safety in the UCaaS or phone systems used by business or government locations, and ways to mitigate risk and improve safety within your organization.
In addition to the new Michigan state laws starting in January, Fletcher explains that "with Federal legislation mandated for February, 2020, Enterprise administrators need to put E911 on their radar. Ignoring the problem can expose the Enterprise to significant liabilities and penalties. Click here if you want to attend The Michigan E911 Enterprise Security Summit.